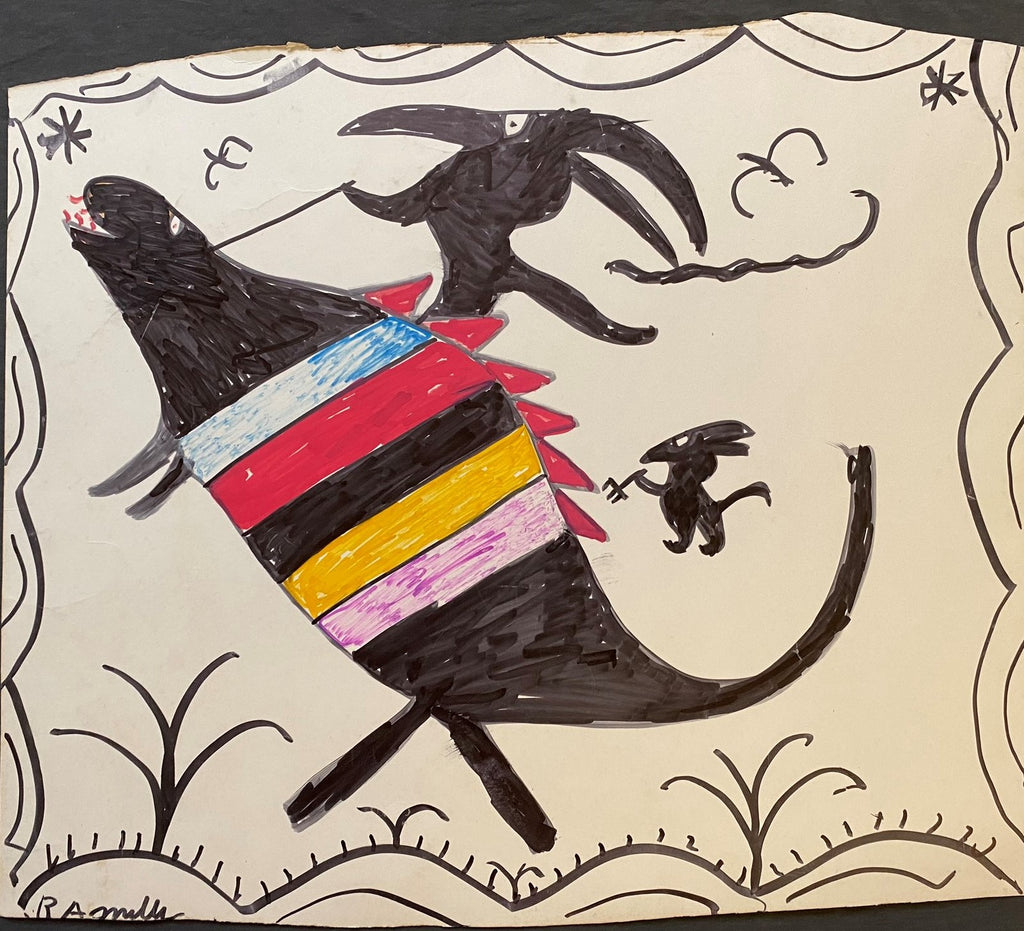 Traditional Art Limited
R. A. Miller "Devil riding a creature" original drawing on poster board. Only 1 available.
R. A. "Reuben Aaron" Miller (1912-2006):  
Front only: "Devil riding a creature with companion devil wielding a pitchfork" drawing on poster board in assorted color markers with uneven borders on coated one side poster board. Signed by the artist in black marker in lower left corner.
Approximately 19.5" x 22.625." Very unique. Circa 1992.
This charming drawing acquired directly from the R. A. in Rabbittown, Georgia, Old Cornelia Highway, near Gainesville.
R. A. sat up at night watching his beloved Atlanta Braves on TV during their 1990's championship years while doing his drawings.
R. A. Miller's (1912–2006) work have been exhibited in numerous institutions and are in the permanent collection of prestigious museums: The Georgia Museum of Art, Athens – "Lord Love You: Works by R.A. Miller from the Mullis Collection" (2009); Brenau University's Simmons Visual Arts Center – "R.A. Miller: A Tribute" (2006); The High Museum of Art, Atlanta; and the alfresco Folk Art Park at the corner of Ralph McGill Blvd N.E. and Courtland Street N.E., downtown Atlanta, established during the 1996 Summer Olympic Games (Games of the XXVI Olympiad).
All of R. A. Miller's works on paper have rough edges and sides, holes, and unsquare corners as they were procured from salvaged materials. It is typical for them to have nail holes because he tacked them to the side of his house when presented for sale. This one does not have any holes.  
---
Share this Product